22 April 2021 | Story Helen Swingler. Photos Je'nine May.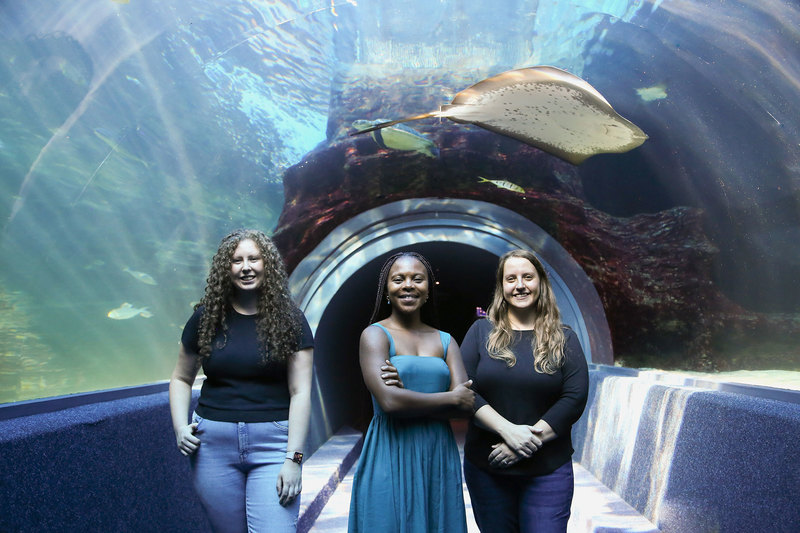 ---
The new 2020/2021 cohort of All-Atlantic Ocean Youth Ambassadors, including three University of Cape Town (UCT) postgraduates, will be working hard to expand awareness of the Atlantic Ocean and its important role as a sustainable resource and climate regulator.
The UCT trio of ambassadors, the only South Africans among the new cohort, are postdoctoral research fellow Dr Marissa Brink-Hull and postgraduates in oceanography Thando Mazomba and Kirstin Petzer.
This initiative is part of the All-Atlantic Ocean Research Alliance (AANCHOR) project, which intersects the suite of European Union Atlantic projects. AANCHOR links initiatives in the European Union, Canada and the United States, and was launched with the signing of the Galway Statement in 2013.
The alliance includes a research community of ocean science institutions, and research and innovation projects involving the entire Atlantic basin. The All-Atlantic Ocean Youth Ambassadors programme was launched in 2019 to enable the next generation to lead change in their communities, promoting stewardship of the sustainable development of the Atlantic Ocean.
UCT News spoke with the trio.
Helen Swingler (HS): What is your academic background, and what brought you to UCT?
Marissa Brink-Hull (MBH): I upgraded my MSc to a PhD in genetics at Stellenbosch University, where I was part of the Molecular Breeding and Biodiversity research group. My research focused on the sea urchin Tripneustes gratilla. I decided to continue this research as a postdoctoral research fellow at UCT, in collaboration with the national Department of Forestry, Fisheries and the Environment.
Thando Mazomba (TM): I completed my BSc Honours in Marine Biology at UCT, and I'm currently an MSc candidate in Applied Ocean Sciences. I was drawn to UCT because of its ability to expose its students to the global environment.
Kirstin Petzer (KP): I've always had a passion for ocean and environmental issues. I decided on UCT because of the university's really great oceanography and environmental and geographical science majors.
HS: What does your research at UCT encompass?
MBH: My research is focused on various aspects of developing integrated multi-trophic aquaculture (IMTA) systems to contribute to zero-waste aquaculture practices. Specifically, I am involved in the assessment of the microbiomes associated with animals and their environments in aquaculture settings, as well as in optimisation of novel species for aquaculture in South Africa. This research forms part of a larger EU-funded project, All Atlantic Ocean Sustainable, Profitable and Resilient Aquaculture (ASTRAL), involving many countries along the Atlantic Ocean.
"This group has the potential to reach many people and contribute to real change in the public's perception of marine life."
TM: My research assesses climate model results in the Southern Ocean using historical humpback whale catch data from the 20th century. This is part of a growing body of work facilitated by the Whales and Climate Research Programme.
Using the whales to deepen our understanding of oceanographic properties in the last century provides us an opportunity to better understand how our climate is changing with time. In return, improved future climate projections will equip us with information that will indicate how future changes in climate will affect the whale populations and their migratory behaviour.
KP: I'm working towards a master's in physical oceanography, studying marine heat waves in the Southern Benguela. By analysing the link between wind patterns and water mass movements, we can understand how these processes impact the marine environment. My research mainly entails analysing sea surface temperature and wind datasets to determine relationships – and possible long-term changes.
HS: What does it mean to you to have been selected as an All-Atlantic Ocean Youth Ambassador?
MBH: I feel honoured and excited to work with this group of young ocean enthusiasts, as we're building a network for knowledge-sharing and ocean awareness. This group has the potential to reach many people and contribute to real change in the public's perception of marine life and its importance.
TM: I believe we need ongoing conversations around diversity and inclusion in the marine space. These are fundamental to the progress of our country's efforts towards marine conservation. Being an ambassador for South Africa is incredibly affirming to the work that I do and believe in. Having this platform will also enable me to engage in these kinds of conversations – now even more so on a global scale.
KP: Personally, it's meaningful to be a South African All-Atlantic Ocean Youth Ambassador because I'm part of a team of young ambassadors who are actively participating in ocean solutions and research. Academically, I'm able to learn about several important and valuable research projects impacting the Atlantic that are being carried out in the Atlantic-surrounding continents. This provides a wonderful opportunity to broaden my knowledge of the Atlantic research community.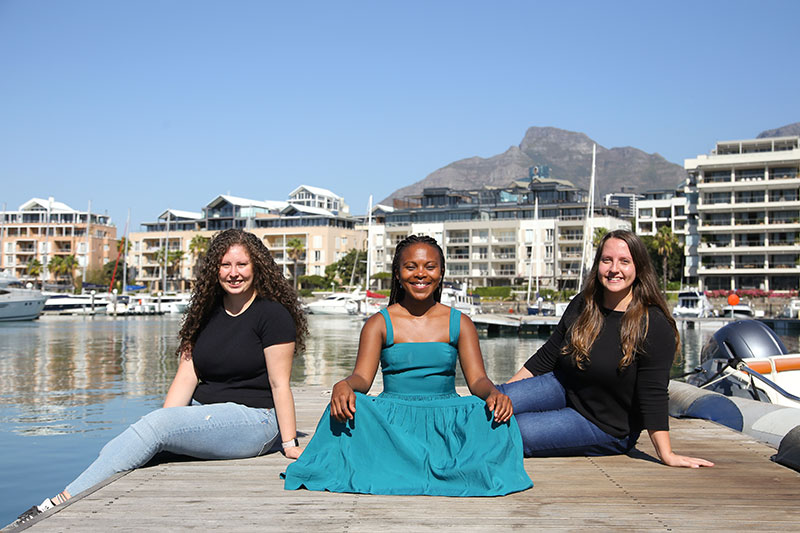 HS: How do you view your ambassador role?
MBH: Our goals include educating others through various engagements across Atlantic communities. We're currently running various social media campaigns, and we're supporting various AANCHOR network actions, including ocean capacity training, marine biotechnology knowledge transfer initiatives, driving innovation and knowledge transfer for aquaculture, data sharing, promoting 'blue' schools and developing research infrastructure networks. At a local level we'll be collaborating with the Two Oceans Aquarium Education Foundation, as well as organising beach clean-ups throughout the year.
TM: The ambassadorship promotes engaging in and driving positive influence and sparking change within the ambassadors' communities, as well as cooperating for the sustainable development and stewardship of the ocean. We can achieve this by breaking down geographical silos in conservation efforts to build on global and local initiatives.
KP: There are many components to the role. The young ambassadors are involved in the All-Atlantic Ocean research community, global event planning, and raising social media awareness of their initiatives. In South Africa we aim to work with local organisations to raise awareness of and improve education about ocean issues.
HS: What are the most urgent priorities in terms of protecting the health of our oceans?
MBH: The largest problem our oceans are facing is that there are too many big problems at the same time – from ocean acidification and pollution to overfishing. That's why including the youth in organisations such as AANCHOR, through their youth ambassador programmes, is so important. This will equip the next generation with the skills to better educate others and spread awareness.
"The problem is that we are not exposed to the destruction we cause to these environments."
TM: The encompassing challenge within marine conservation is the concept of "out of sight, out of mind". I believe that people do care about their natural environment; it is a part of us, after all. The problem is that we are not exposed to the destruction we cause to these environments, and therefore it's never prioritised in our day-to-day lives.
Socioeconomic barriers are another challenge. Addressing the challenges of marginalised communities, such as access to clean water, education, proper sanitation infrastructure, responsible waste disposal and energy sourcing – [these] are all important in lifting the standard of living in these communities. Through this upliftment, we can have a greater contribution to our workforce; a greater contribution to our conservation efforts.
Socioeconomic challenges should also consider intersectionality within marine conservation, as this speaks to the exclusivity of marine spaces. We need to bridge these gaps so that we can achieve diversity and inclusion. Through this, conservation efforts will be more robust, encompassing knowledges from different walks of life and different experiences.
KP: There are many urgent issues and many great initiatives tackling these issues, but I believe that ocean literacy and education is one of the most important of these initiatives. Educating people about how connected we all are to the ocean and our dependence on the marine ecosystem is crucial to embracing sustainable ocean practices. While the issues facing the ocean and environmental sector might feel overwhelming, through the All-Atlantic Ocean Youth Ambassadorship I have realised there is a community of people all over the world dedicated to making a positive impact – and small actions, every day, make a great difference.
---
This work is licensed under a Creative Commons Attribution-NoDerivatives 4.0 International License.
Please view the republishing articles page for more information.